An ownership mindset means taking responsibility for outcomes and being empowered to make the decisions that will lead to those outcomes. To cultivate an ownership mindset on your team, focus on transparency, autonomy, and customer empathy[i]. I would like to think the transparency piece swings both ways both internally and externally. In other words, to have an ownership mindset requires us to be transparent with our teams and demand the same from our vendors. Because pharmacy benefit managers falsely use DAW codes to reduce the number of rebate eligible claims, one can't stress enough the importance of pharmacy benefit manager (PBM) contract language.
We're at the tail end of yet another PBM selling season. Not much has changed as PBM proposals – optics – are being placed on a spreadsheet for comparative analysis. There is little regard for evaluating and memorializing contract terms which drive lowest net cost and full disclosure. The language (transparency or lack thereof) in a PBM contract has the biggest impact on PBM cost performance. More specifically, whether a plan sponsor has entered a fair deal or bad deal with a pharmacy benefits manager.
Manufacturers dictate to PBMs which claims are eligible to earn refunds or rebates, for example. The list of claims not eligible for rebates is long! Here is a brief list of claims excluded by drug manufacturers from eligibility for rebates.
Reversed Claims or Claims for non-eligible Members
Claims where the Member pays 100% of the cost of the product without subsequent reimbursement under a Benefit Plan (e.g., discount card program), except where Member may pay for the full cost during a deductible or similar period under a Benefit Plan
Compounds
LDD
Home Infusion (claims from IV infusion hospitals are excluded but not necessarily the infusion itself)
Indian Health/Tribal Serv
LTC
Military/DoD
OTC (except certain test strips for which we get a rebate)
Vaccines
Veterans Affairs
It is understandable why drug manufacturers compile an exclusion list of claims before paying rebates. What I can't reconcile is a non-fiduciary PBM adding to this already exhaustive list of exclusions. Moreover, consultants reviewing proposals must consider the number of claims for which rebates are being paid or are going to be paid. Below are exclusions which should not be allowed but are often left in the contract allowing the PBM to retain the full dollar amount of rebate payments for these types of claims.
Dispense As Written (DAW) Claims with code 1
Dispense As Written Claims with code 2
Dispense As Written Claims with code 5
Claims with greater than 50% Member cost share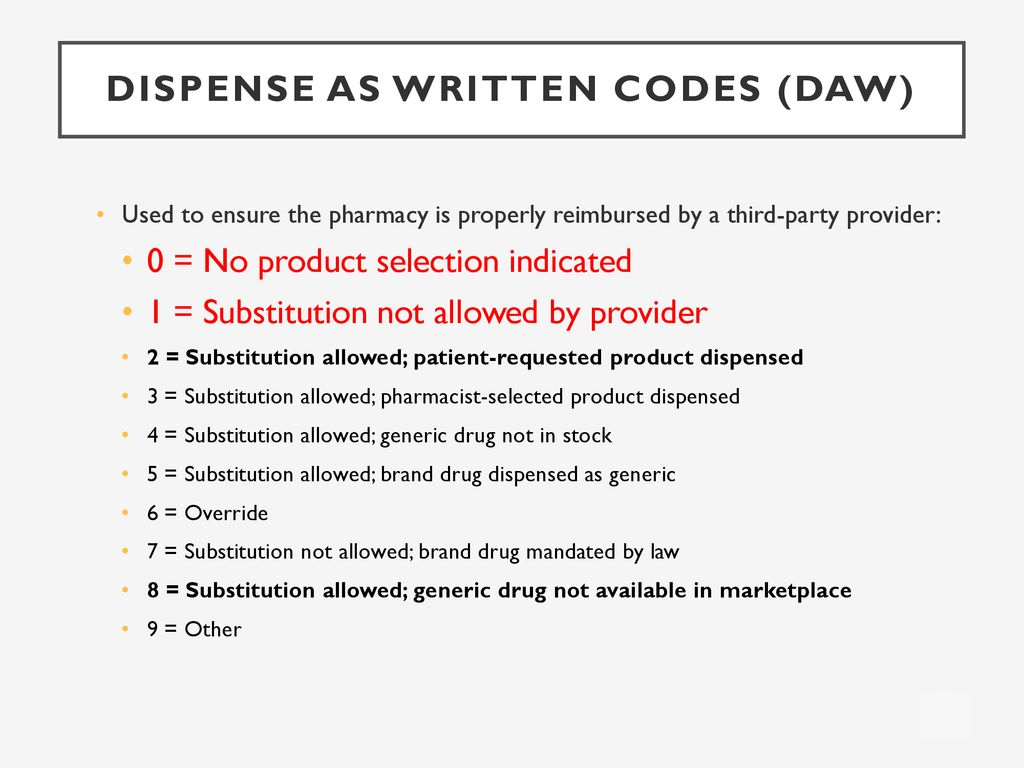 DAW codes are set up by PBMs in our claims adjudication software platforms! One of my Certified Pharmacy Benefits Specialist (CPBS) students wrote, "this is a good course to learn how PBMs nickel and dime their clients to death." How DAW codes are employed is at the discretion of the PBM and/or sophisticated plan sponsor. In the list of exclusions shared above, DAW codes are being used to generate hidden cash flow. Conversely, PBMs are increasing the final plan cost for their clients. DAW codes are not the only source of rebate spreads, outcomes or value-based refunds are other examples.
DAW 9 has become increasingly popular and is being put into place by non-fiduciary pharmacy benefit managers. In short, even when prescribers write a prescription and sign Product Substitution Permitted — the pharmacist must dispense the brand name product for the product to be covered by the patient's insurance. This is done by changing the computer DAW code from a 0 to a 9[ii]. Non-fiduciary PBMs make more money from rebates at the expense of their clients not being able to attain the lowest net cost.
Pharmacy Benefit Managers (PBM) Falsely Use DAW Codes to Reduce the Number of Rebate Eligible Claims
Non-fiduciary PBMs have learned how to leverage the purchasing power of unsophisticated plan sponsors to their financial advantage. They give you the optics or what you want to see in exchange for what equates to a blank check. PBM contract language gives the purchaser a peek into the future as to what is really going to happen – after the plan goes live! Contract nomenclature will dictate how a PBM behaves.
A contract with radically transparent language prevents the PBM from taking a rent-seeking strategy. Proposals with opaque contract language should be discounted. Conversely, proposals with radically transparent contract language should be given a premium. Make sure your broker or consultant is an expert at scoring PBM contracts. Ask for samples of their contract scorecards and the methodology. That is step one. Step two is recognizing drafting, negotiating, and finalizing a contract with a PBM are the three most important tasks during a competitive bidding process.
---
[i] Goff-Dupont, May 25, 2021, 3 signs your team doesn't have an ownership mindset and what to do about it, August 16, 2022, https://www.atlassian.com/blog/leadership/how-leaders-build-ownership-mindset
[ii] Blakemore, January 6, 2018, The increasing use of DAW 9 and its potential impact on pharmaceutical care, May 12, 2020, https://samblakemore.com/2018/01/06/the-increasing-use-of-daw-9-and-its-potential-impact/