Is your PBM working for you?
Pharmacy benefits represent an increasingly significant piece of the healthcare benefits puzzle. The complexities involved in managing today's drug plans make it harder than ever to contain costs and improve the quality of patient care.
Many employers work with pharmacy benefit managers to increase efficiencies and decrease drug costs. But traditional PBM arrangements are fraught with conflicts of interest. As a result, PBMs are often the ones that benefit the most from this relationship. They retain pharmaceutical manufacturer rebates, mandate the use of their mail order facility and collect undisclosed revenue through "spread" pricing.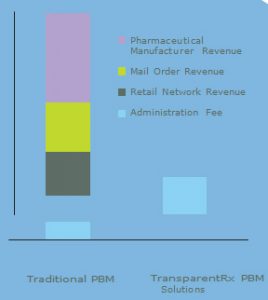 These hidden practices can leave you with a murky picture of the real costs of your drug plan. Additionally, most PBMs offer "one-size-fits-all" packages that fail to take into account your specific needs.
With TransparentRx the difference is visible.
We have eliminated all conflicts of interest and are fully aligned with your goals. At TransparentRx we take the time to understand your unique needs and challenges. We work closely with you to custom-tailor a plan that provides the lowest possible pharmacy costs and the most appropriate care at a price you and your employees can afford.
Our custom care solution eliminates the hidden mark-up or "spread." We do not retain any manufacturer revenue or rebates, network discounts or any other incentives. Instead, we pass-through 100% of the savings and manufacturer revenue to you through a readily verifiable and auditable system accessible right from your desktop.
This strategy of fiduciary standards ensures our motivation to be a steward of your best interests. We maximize generic savings, select the lowest net cost brands in the formulary decision process, and implement cost-reduction strategies that will save you money and help keep your employees healthier.
"…when we wrote the check each month for our drug plan, I thought that the ingredient cost and dispensing fee charged were actually being paid to the pharmacy provider. I was amazed. For the first time I could actually see how much money was being retained by the old PBM and how much is truly being saved with TransparentRx…"
Todd
Union Executive
How much could you be saving? Get a Plan Performance Assessment report from TransparentRx.
Contact us at 702.990.3559 or sales@transparentrx.com to identify your savings opportunities.
The TransparentRx Team works with you to:
Align the plan design to meet your objectives
Build the perfect pharmacy network for employee access
Select a value-driven, unbiased preferred drug list
Recoup all rebate dollars where and when they make sense
Educate your patients to improve health and happiness
Assemble the business intelligence necessary to better manage your healthcare dollars
Achieve your goals with TransparentRx—guaranteed.
Allow us to share our expertise and partner with you to design the best drug benefit plan for you and your employees.
Step one:
Provide us with 12 months of actual claims data.
Step two:
We'll analyze the real costs of your current plan and provide you with the potential savings opportunities, knowledge to help make informed decisions and the tools necessary to achieve your goals.
And, unlike any other PBM, TransparentRx will offer a fiduciary contract.
Flexible benefit plan design and administrative services
Custom-built plans based solely upon your program goals.
Pharmacy claims services
The FiduciaryRx Administrator Program is the most feature-rich and functionally flexible claims adjudication engine available today.
Formulary management
We create a formulary that helps you achieve your fiscal goals and offer maximum benefits to your employees.
Rebate services
We negotiate the best possible rebates to maximize your drug benefit dollars.
Pharmacy network management
Our extensive network includes more than 65,000 pharmacy partners.
Patient/enrollee and provider services
Our multilingual customer call center is available 24/7.
Drug utilization management programs
We offer cost-containment programs and guidance to maximize incremental savings.
Reporting services
We offer instant access to "real-time" data in formats that are meaningful and useful.
Our Record of Achievement
A Medicaid Insurance Company retained TransparentRx to draft a contract and to negotiate one-on-one with its incumbent PBM. An audit approximately six months after the new contract's inception reflected the new contract had decreased the insurer's costs by 17% (considering the impact of drug manufacturers' increased prices). At the end of the initial three-year contract term, the insurance company signed a PBM service contract with TransparentRx.
A Midwest Health Coalition retained TransparentRx to advise the coalition about weaknesses in its current PBM contract, make recommendations concerning the scope of an upcoming audit, and conduct a RFP to locate a PBM with costs and services aligned to plan goals. With our fiduciary model, the coalition lowered pharmacy costs by 17%, on average, without reducing member access or benefit levels.
A large Third-Party Administrator retained TransparentRx to conduct and evaluate RFPs. Because of our analysis, the TPA replaced its existing PBM thereby cutting costs by 14%. The TPA was one of our very first clients and is still with is today.
A Union Consortium, representing almost 25,000 members, conducted a PBM RFP and retained TransparentRx to negotiate and draft a new PBM contract at its conclusion. One and a half years later, the consortium again retained TransparentRx to negotiate a new PBM contract, and when the incumbent PBM refused to provide improved terms, the consortium signed a PBM services agreement with TransparentRx.
A Self-Insured Energy Company with 5,122 employees retained TransparentRx after a comprehensive RFP process. We drafted an entirely different form of contract [fiduciary] that enabled the energy company to use on-site Health Clinics to dispense medications and monitor patient adherence. Because we x-ray claims data, aggressively manage utilization and target high-cost drugs to implement better management and cost controls, the energy company reduced PBM service costs by 27%.