In pharmacy benefit management, pass-through doesn't mean what you think it means hence the title of this post 6 Indicators Your PBM is Hoarding Rebates. A logical person would surmise that when a pharmacy benefit manager (PBM) professes it is pass-through, any discounts it has negotiated are distributed back to the client. Au contraire mon frere.
Pass-through pricing means that the PBM passes the discounts, rebates, other revenues, and actual costs charged by the pharmacy or paid by a pharmaceutical company (in the form of refunds) directly on to the plan sponsor. In actual use, it can have various definitions according to the understanding of the parties.
When a PBM salesperson tells you its organization is pass-through, they aren't necessarily being untruthful. What they and you must understand is that in practice they are passing through only the discounts or refunds required by the contractual terms. The typical PBM salesperson is working with limited industry knowledge, so they don't know any better. If there is a loophole, you must assume the PBM will take financial advantage of it.
The term pass-through must be carefully defined in the contract in every instance it is used since there is no industry-accepted definition. If the term is not included in the contract, add it. I spoke with a broker recently who was adamant that the deal they negotiated for their client was pass-through. When I pushed back the broker insisted that the contract was pass-through because the PBM told him so.
The base administrative fee for services related to pharmacy benefits management including, but not limited to, mail services, clinical services, and customer service was $0.00. I asked, rhetorically, how can the PBM make a profit if not through hidden cash flow streams when there is no administrative fee? It is not possible for a PBM contract to be truly pass-through when it waives the administrative fee. Here are 6 indicators your PBM is hoarding rebates.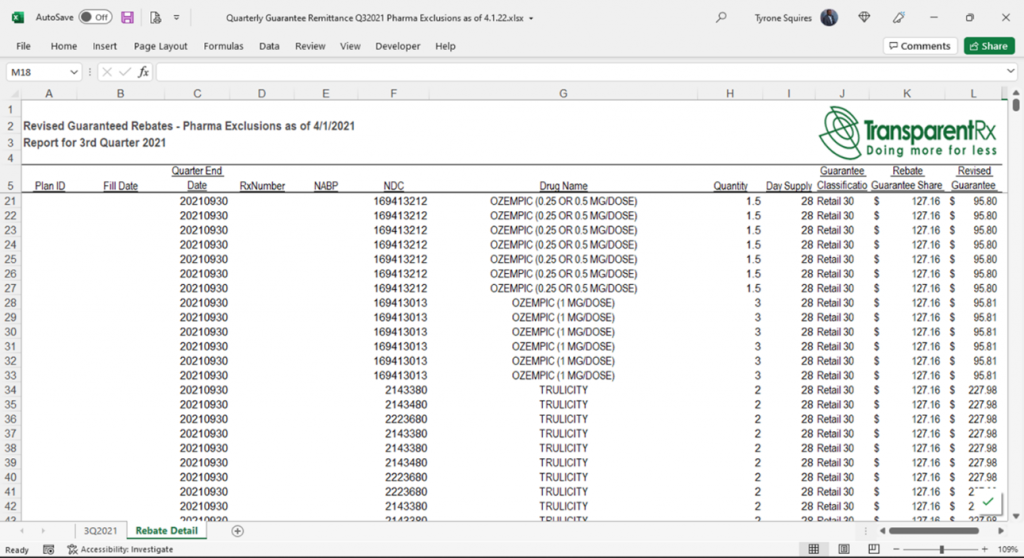 The base administrative fee for services related to pharmacy benefits management including, but not limited to, mail services, clinical services, and customer service is artificially too low. It is not possible for a PBM to be truly pass-through when it waives the administrative fee or doesn't charge enough to cover overhead.
The definition for rebates in the contract language is opaque. One example is "…and directly attributable to the Formulary and Covered Product utilization by Eligible Persons." Allowing contract language such as this the broker unknowingly permits the PBM to retain at least 15% of rebate dollars.
You forgo all or a portion of rebates to take a credit on the medical administrative fee. Heck, you may as well call it for what it is – a bonus payment. The PBM's pricing analysts will shift costs to make up for any "credit." What's more, these credits incentivize the PBM to dispense more brand drugs. An 87% generic dispense rate (GDR) is not good. It is below average. An 80% or higher prior authorization approval rate is not good either. In fact, it is way too high. High PA approval rates don't improve outcomes, but it does increase drug spending unnecessarily. Rebate credits reward PBMs for rubberstamping drug utilization management programs. Never forgo rebates for any reason including medical benefit drug rebates.
The PBM excludes claims with DAW codes 1, 3 or 5 from rebate eligibility. There is no reason on god's green earth for these claims to be excluded other than the PBM taking financial advantage of its client. DAW code exclusions are driven by PBMs who profit from an opaque revenue model.
The PBM does not provide claim (NDC) level reporting. A Rebate Remittance Summary Report is a summary of the total payments received from manufacturers, on a per client basis, which includes the total allocations for these payments, NDC, pharmacy identifier, claim number, fill date, and plan identification. The information in this report will reflect the guarantee and payment received on each specific claim.
The PBM service agreement ought to incorporate year-over-year increments on rebate or refund rates. This increment will assist with guaranteeing that your agreement is working every year. When long-term agreements are set up, it's particularly vital to increase rebate rates every year to adjust for inflation and provide price protection. One more method for tending to this yearly rebate rate increment is through a market check. The market check helps to ensure you are getting the best rates year-over-year. In a perfect world, you would incorporate both the year-over-year increments of rebate rates, as well as an annual market check provision in the PBM service agreement.
Conclusion – 6 Indicators Your PBM is Hoarding Rebates
The Lehigh County Controller's Office reviewed Lehigh County's prescription drug plan which lost savings of almost $1.4 million, while battling a lack of transparency and openness about drug costs[i]. Lehigh County elected to choose a fixed discount structure, meaning that it received a flat rate savings for each employee on its healthcare plan. Lehigh County is self-insured. It could have elected to take full rebate value which results from savings passed from the pharmaceutical company to the pharmacy benefit manager but chose not to do this. In 2019, Lehigh County found that the actual rebate value exceeded the fixed discount by $700,000. The Controller's Office also identified $654,749 in potential drug cost savings through a market check.
Bloomberg Law writes, "among employers' concerns are a lack of transparency into whether PBMs are fully refunding rebates and discounts negotiated with drug manufacturers; how PBMs profit from manufacturer discounts; and whether they are including expensive drugs on formularies to increase their own profits." It seems Bloomberg Law and Lehigh County have a lot in common.
---
[i] Siegel. J. 2021, January 29. Lehigh County Controller Takes on Highmark Health Insurance. PR Newswire. https://www.prnewswire.com/news-releases/lehigh-county-controller-takes-on-highmark-health-insurance-301218070.html.