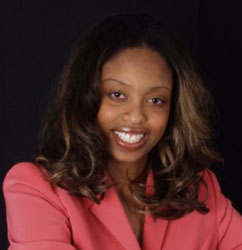 Brandi Reddick, Pharm.D, MSHI, CPBS
Brandi Reddick, Pharm.D, MSHI, CPBS is a licensed pharmacist with a specialty in Managed Care Pharmacy Practice, Healthcare Technology/Digital Health, and Pharmacy Informatics. Moreover, she founded futuRXism.io, an educational consulting firm designed to help healthcare executives easily understand emerging technology (e.g. blockchain, artificial intelligence, machine learning, cognitive computing, etc) and its impact on the pharmacy benefits management and healthcare industry.
Dr. Reddick's extensive experience in the Pharmacy Benefits Management space entailed managing the clinical, financial, regulatory and operational aspects of the contract with the PBM, CVS Caremark, in
order to assure contract compliance for the health plan, Molina Healthcare. She collaborated with the
health plan and the PBM on myriad strategic initiatives inclusive of specialty pharmacy, healthcare
technology, manufacturer rebates, clinical programs, formulary, operations, implementations, regulatory
and contractual projects. Dr. Reddick aligned priorities between the health plan and the PBM to maximize the PBM's value to the health plan. She also evaluated analytics in relation to pharmacy cost and utilization data in order to implement solutions to mitigate increasing drug cost trends. Prior to her
role at Molina, Dr. Reddick worked for Managed Care Organizations, with an emphasis in Workers Compensation, and in various pharmacy practice settings within Long-Term Care Pharmacy, Behavioral Health, Hospital, and Drug Information.
Dr. Reddick is a member of the American Medical Informatics Association (AMIA), Health Information and
Management Systems Society (HIMSS) and the Pharmacy Benefit Management Institute (PBMI). She
received her Doctor of Pharmacy Degree from Florida Agricultural and Mechanical University, a Master of
Science Degree from the University of South Florida Morsani College of Medicine and completed a
residency in Managed Care Pharmacy Practice at Humana Inc. Dr. Reddick holds a certification in Health
Informatics and is a Certified Pharmacy Benefits Specialist (CPBS).
Previous Experience:
Account Manager, Pharmacy Benefits Management, Molina Healthcare
Manager, Clinical Pharmacy Operations, Clinical Pharmacist, Aetna
Long-Term Care Pharmacist, Omnicare and Guardian Pharmacy
Pharmacist, Wekiva Springs Acute Care Behavioral Health Hospital
Director of Clinical Pharmacy, Manager of Clinical Pharmacy, Clinical Pharmacist, Express Scripts
Managed Care Pharmacy Resident, Humana